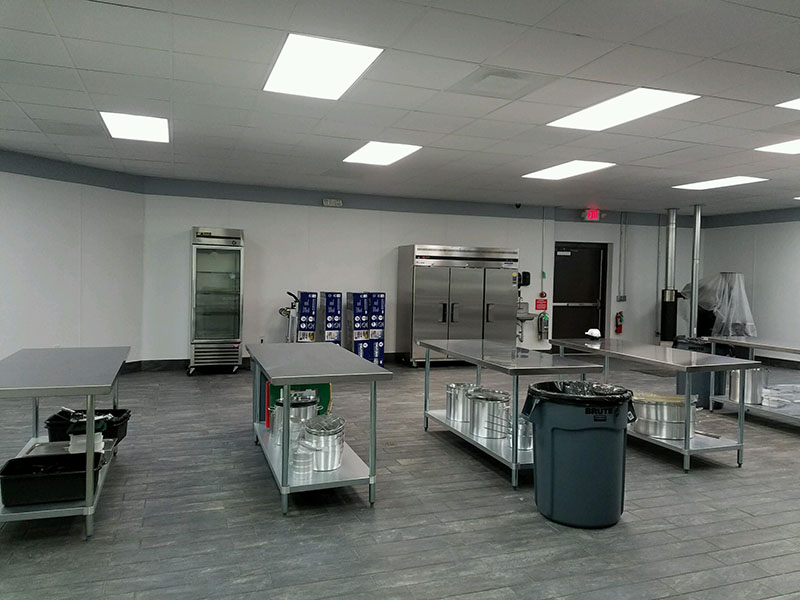 Here at The Cookline, we are a strong community for all kinds of chefs, entrepreneurs, and anyone who needs top-rated space for their next event. Our commercial kitchens in Carrollton and Plano, TX houses multiple amenities available for our kitchen clients to rent. Our location has 10 offices to grow your business, and dry storage available for rent. We are more than just a kitchen that you can borrow for a few hours; we offer opportunities for growth to our clients, and our goal is to consistently provide a professional environment that satisfies every customer that chooses to work with us.
Commercial Kitchen Rental near Murphy, TX
Our full chef's kitchen is beautifully designed and well equipped. Our commercial kitchen space allows food entrepreneurs in Murphy to start their businesses at a fraction of the cost.  It's perfect for Murphy start-ups, and can be used on an as needed basis. We even have a dedicated tasting room available for rent, great for the most sophisticated food and wine tastings, and 10 offices available to help expand your cooking business.
Food Packaging Room
Our packaging room at The Cookline is the perfect place to take your culinary business to the next level! Designed for the convenience of our clients, this room is just off of the kitchen and can be used for a myriad of different purposes within your business. The tables and chairs can be moved around to accommodate whatever scenario you have in mind, and the small prep space and culinary-themed décor make this room the ideal place to gather and welcome both friends and colleagues.
24/7 Kitchen Availability
The Cookline provides Murphy bakers and caterers a pay-by-the-hour base of operations without the overhead. Our kitchen is available around the clock, so you can schedule whenever it is most convenient for you and your business. Online scheduling makes it easy to quickly reserve the space, check for schedule openings, and even change your reservations if you need to.
Contact us today to learn about the opportunities available to The Cookline clients.