The best knives are all about how they perform and feel in your hands. These brands all have excellent reputations in the culinary industry, with professional kitchens around the country using these brands.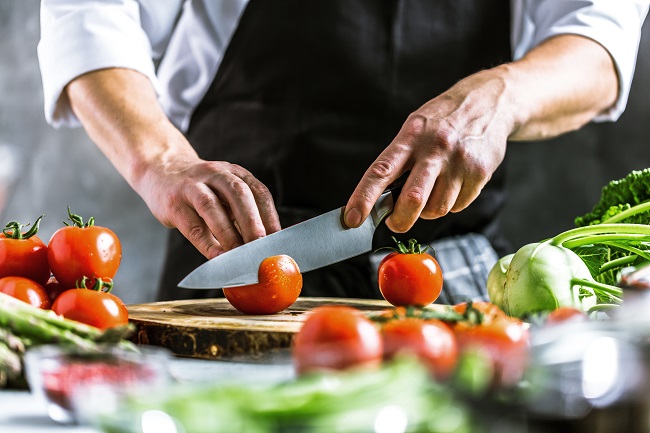 The Overall Most Popular:
The MAC MTH-80 Professional Series, which is also known as "The Mighty MAC" was the most well-liked across the board. The reviews have called it the "Goldilocks of Knives" for its weight feeling 'just right' regardless of what the users hand size or skill level was. It is easy to retain your grip with the Mac's half-bolster handle, a feature that it shares with its competitor the Shun Classic.
To acquire the Mighty MAC, it costs around 145 dollars in US Dollars.
Best for the Experienced:
The Shun Classic 8 earned the top spot for the seasoned veterans of the culinary arts. It is described as being more elegant than the MAC knife. Due to being covered in the layers of Damascus steel that gives it its appealing & sleek design, it requires a more refined technique to prevent chipping along the edges.
The average price for the Shun runs between 175 and 182 dollars, making it pricier than the Mighty MAC. If you are just starting out you should look elsewhere, but if you've been in the business a while, you will love everything about this product.
Best for the Beginners:
The Victorinox Fibrox 8-Inch Chef's Knife worked best in the hands of professionals newer to the craft. The Fibrox 8-inch is the lightest in terms of weight, weighing in at just 6.6 ounces, from the three covered. Despite weighing less, the design is actually wider  in shape than both of the above. The comfort factor really pushes it forward as a recommendation for the uninitiated.
It is the cheapest knife to earn a spot on the Top list coming in at just 35 dollars according to the latest listings on Amazon which, on top of being a hundred dollars cheaper than the others, is also down from the article on the previously reported 45 dollar price tag.
*The above were tested and reported on in a piece by Reviews.com. In this piece, the focus was on 8-inch bladed knives.