The range and microwave are the kings in a standard kitchen. However, in a commercial kitchen, there are numerous options. Many of the cooking solutions seem to have the same application. When you need heat on your line up, many kitchens will have charbroilers, griddles, and ranges. Here are some of their uses and why you would want to use each.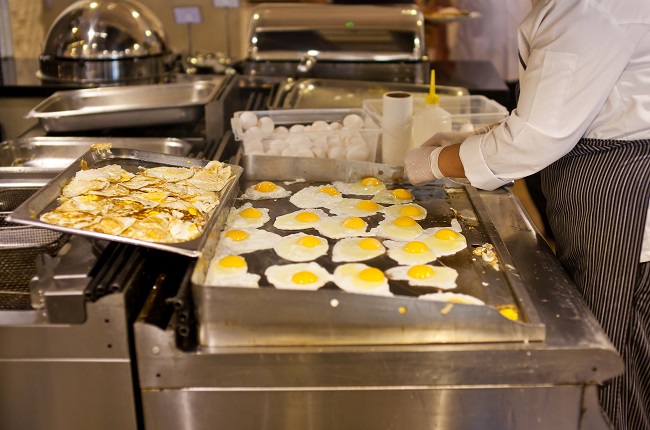 Charbroiler
Need a little sizzle and smoke for your meats? Charbroilers are your answer. The meat, often beef or chicken, will take on grill lines due to the cast iron grates. There will also be an altered flavor profile from grease hitting the radiant. To increase the flare-up, use rocks or cast iron instead of a stainless steel radiant. This is excellent if you want customers to see the fiery display.
Many charbroilers have grates which slant by placing them over a lip on the back. This allows product to cook in the front and remain warm in the back. There are also fish grates. The fish grates make less contact, as the grate slats are thinner. A rut in the fish grate drains the proteins to make clean up easier. When this grate is used for beef and other fatty meats, it drains the grease to decrease drippage on the radiant. This reduces flare-up.
Griddle
A good griddle is the workhorse of any burger and breakfast joint. For a creative use, stir fry, Mongolian barbecue, and fajitas will heat things up on your menu.
The biggest decision you will make on a griddle is thickness. A thicker griddle means improved heat recovery and fewer cold spots. This will increase kitchen production, as there is less wait between food items rotating on the griddle.
Range
Ranges are fantastic for pot and pan cooking, along with overall utility. This would include sauces and soups. Commercial ranges are often configurable, so you can customize them for griddle plates, stockpots, woks, and other specialized applications.
With the oven underneath, it adds a little extra cooking room. Some manufacturers can also alter the oven to be a convection oven, saving space while increasing utility.
Need help picking the right one?
With so many applications and options, it can be difficult to know what the right solution is for your menu. You can try all three at The Cookline's rental test kitchen. Contact us and try out your ideas today.