Wine tastings are known for more than just the vast variety of wines they offer. Each tasting is a unique event made extraordinary by the food offered. If you are opening your own catering business or starting up a gourmet line of sweets, hosting a wine tasting is the perfect opportunity to snag new customers. The relaxed atmosphere of a tasting creates the perfect opportunity to network and showcase your unique take on food. Restaurants have been hosting "sip and samples" for years and typically see a sales increase just from hosting one tasting. Confused about where to start?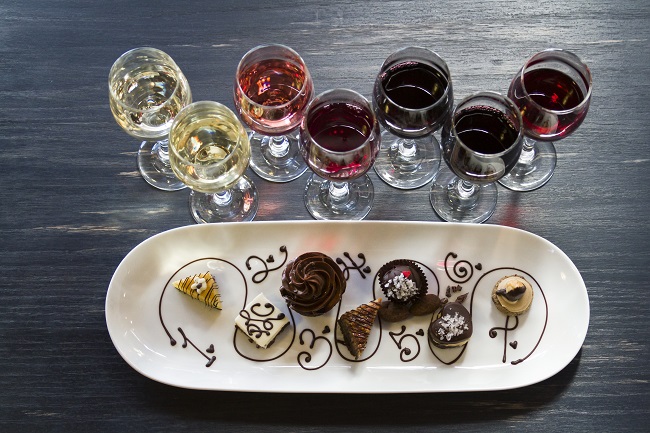 1. Making a Plan
Your wine tasting should be scheduled a month or more in advance. The advanced scheduling gives you time to invite guests, plan a menu, order the wine, decide how to serve each, and brainstorm ideas for decorations.
Most companies use e-vites, and run ads in local newspapers. However, flyers, social media sites, and news stations are other slightly more unique ways to increase your potential guests. The more people you let know you're having a wine tasting, the more guests are bound to come. Use your menu to showcase your company and tell who you are through the dishes or just by highlighting your most unique dishes. Be sure to plan a wine to pair with each dish as it will help to make your food shine. You should also plan how the food and wine pairings will be served, just remember to think 'outside the box'.  Decorations are also needed in order to set the theme or feel of your company and the entire event.
2. Pulling It All Together
Before your tasting, be sure to prep the dishes, preferably the day before. Cookline makes preparation easier by providing day-long use of their refrigerators. Be sure to plate each dish a half hour before the event and to decorate the space a few hours before hand. If you finish a few minutes early, just step back, breathe, and get ready to put your best foot forward.    
3. It's Time to Shine
Once you have guests' coming through the doors, encourage them to try particular dishes and wines. Explain each dish, what you taste, how it makes you feel, anything. Use this time to get to know the people who ventured out to taste your fare and wow each of them as much as possible. With all of the services offered by Cookline, your wine tasting should be the 'talk of the town' and have everyone excited about the next one. Visit Cookline today to boost your business today.
Don't hesitate, contact us today!