If you have a desire to let your inner teacher out, host a virtual cooking class. Now is as good a time as any to begin instructing aspiring at-home cooks. Here's a quick guide to start virtually sharing your sage wisdom.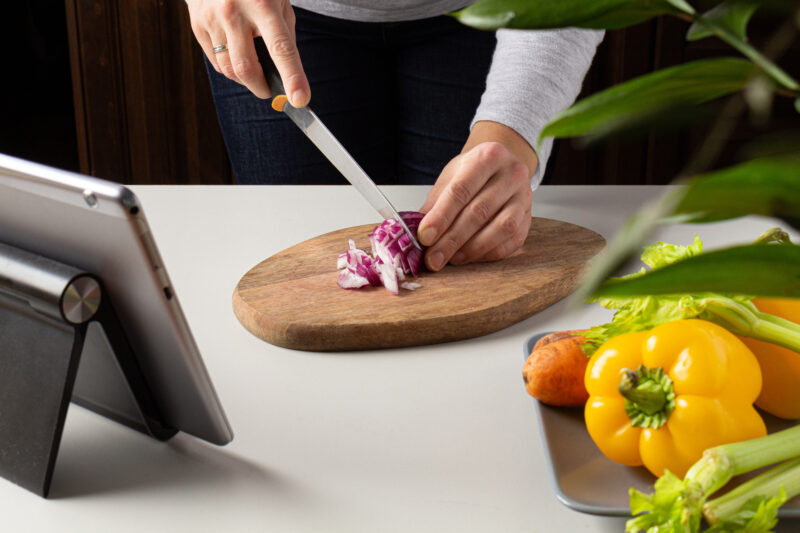 Outline Your Lesson Session
Map out what you want to share. Start by brainstorming some ideas. Examples: Chicken Butchering 101, How to Souffle, Cake Decorating, etc. List what you'll need for your session like what cooking equipment and utensils you'll be using, do you need a camera, etc. Then plot out your schedule. Also double-check to see if you need to budget anything then compile your lesson into a nice, neat, organized outline in sequential order.
Partial Example:
Topic: Chicken Butchery
Introduction
Greeting
Share My Background
Summarize the Lesson
Body
Best places to purchase a chicken
Which knife to use
Sectioning out the chicken
Practice
Rehearse what you'll say a few times so you can get comfortable presenting your class once you record it. The more you practice the easier and more natural it'll appear. Quick tip, keep the camera off and practice looking at the lens while you speak so you get used to looking into the camera. Imagine the lens is your most engaged student.
How to Present Your Class
You can present your class over Zoom and record the session. Once recorded, you can post the class on Facebook, Instagram, or other platforms. Share your lesson through an email marketing platform like MailChimp. You can even post it on your business blog. There are several ways you can show off your cooking wisdom.
Rent our facilities to set up your next cooking class and achieve your dream of presenting your own cooking show. We'll provide you the space to share your knowledge. Contact us today and we can get started.